Advanced Summer Programme on Countering Terrorism: Legal Challenges and Dilemmas

In the past years, terrorism has continued to gain ground as one of the most complex and pressing problems of contemporary societies. Terrorist attacks have hit countries around the world, pushing governments to adopt new policies and measures attempting to address a constantly evolving threat. In order to understand and respond to the global problem of terrorism, the Asser Institute and the International Centre for Counter-Terrorism – The Hague (ICCT) are offering the unique Advanced Summer Programme on Countering Terrorism: Legal Challenges and Dilemmas from 28 August – 1 September 2017. During an intensive week, experts will provide participants with key insights into the current issues surrounding counter-terrorism from a legal perspective, together with state-of-the-art tools to respond to terrorism.

Programme
The comprehensive programme addresses counter-terrorism from a variety of perspectives. Topics covered include the definition of terrorism; the notion of 'global war on terror'; the legal framework surrounding the use of armed drones for targeted killings; the protection of human rights while countering terrorism; preventive and repressive responses to the phenomenon of foreign fighters; challenges regarding the prosecution of (returning) foreign fighters; and the role of intelligence gathering and sharing in counter-terrorism. The lectures are complemented with study visits to international institutions in The Hague.
Speakers include:
Judge David Baragwanath, Special Tribunal for Lebanon

Sergei Boeke, ICCT/Leiden University

Jessica Dorsey, PAX

Professor Richard English, Queen's University, Belfast

Dr Bibi van Ginkel, ICCT/Clingendael Institute

Lucia Ling, Netherlands Ministry of Security and Justice

Andreas Schüller, European Center for Constitutional and Human Rights

Dr Kinga Tibori-Szabó, Kosovo Specialist Chambers
Click the image for the preliminary programme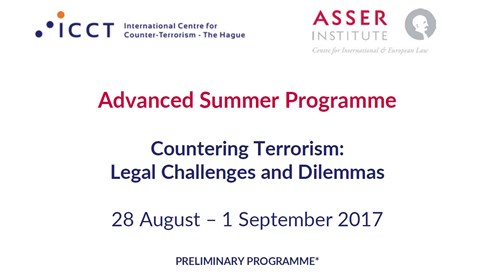 What will you gain?
A solid understanding of the different challenges, underlying dilemmas, and rule-of-law responses when countering terrorism;

An outstanding opportunity to explore, together with high level speakers, long-term, effective, international rule-of-law-based strategies and measures for countering terrorism; and

Unique networking opportunities with speakers and participants from diverse backgrounds.

Who should participate?
The summer programme is designed for front-line practitioners, policy makers, diplomats and (military) lawyers. Professionals working at think-and-do tanks, international organisations, universities (including PhD students) and in the criminal justice sector, who want to expand their knowledge of the underlying legal tenets and dilemmas in countering today's and tomorrow's terrorism, are also invited to apply.

Application

The deadline for application is 23 July 2016.

*Please read the Registration Information & Conditions carefully before registration.

Fee
€ 1695

This fee includes lectures, study materials, study visits, water/tea/coffee and lunch during working days, a reception and an opening dinner. The fee does not cover (international) travel costs, domestic travel to and from airports, (hotel) accommodation, insurance or other expenses. The T.M.C. Asser Instituut can provide prospective participants with a list of suitable hotels in The Hague.

Contact
For more information or questions please contact educationtraining@asser.nl or info@icct.nl.


Download more information